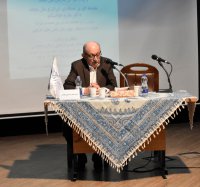 Iran and United Nations: 40 years of Action and Reaction
Iranian Association of United Nations Studies (IAUNS) in partnership with UNIC Tehran commemorated United Nations Day 2019 by holding a seminar on "Iran and United Nations: 40 years of Action and Reaction" at the House of Humanities Intellectual on 4 November 2019.
Addressing the participants, Secretary-General of IAUNS and professor of international law at Allameh Tabatabaei University Dr. Pouria Askari in his opening remarks said the Islamic Republic of Iran as an important player has made great contribution to the UN's norm-making efforts.
"Dialogue among Civilizations and World Against Violent Extremism (WAVE) initiatives introduced by Iran, are examples of Iran's contributions to the Organization," he added.
The UN Day video message of Secretary-General Antonio Guterres and a film on UN and Iran post Islamic Revolution cooperation were screened for the audience. Selected photographs of UN-Iran partnership exhibition were on display for the participants.
UNIC Director Maria Dotsenko said to mark UN Day, Secretary-General António Guterres has announced that next year's commemoration of the 75th anniversary of the United Nations will feature a large and inclusive global conversation on the role of global cooperation in building the future we want.
Starting in January 2020, she added, the United Nations will hold dialogues around the world and across borders, sectors and generations. The aim is to reach the global public; to listen to their hopes and fears; and to learn from their experiences.
The main speaker of the conference was professor of international law at Allameh Tabatabaei University Dr. Mohammad Reza Ziaei-Beigdeli who delivered his lecture on the theme of the conference.
He said historically, Iran has been one of the main players in the United Nations. "Out of four committees which were set up to draft the UN Charter, Iran had representatives in three of them," he added.
Referring to Iran's role after the victory of the Islamic Revolution in Iran, Dr. Ziaei-Bigdeli said for the past 40 years, Iran has been one of the most active international actors in the United Nations including in its main organs, subsidiary bodies and UN specialized agencies.
He said in addition to Dialogue among Civilization and WAVE initiatives, Iran has had excellent relations with United Nations High Commissioner for Refugees (UNHCR) with regard to assisting Afghan refugees in Iran and United Nations Office on Drugs and Crime (UNODC).
The renowned international law professor pointed out that Iran has had excellent relations and cooperation with all UN agencies, funds, and programmes stationed in Tehran. He said Iran has had excellent cooperation with the United Nations Information Center, which "we witnessed one of its joint activities today". He added that some 47 Iranian NGOs, including IAUNS, have succeeded to get consultative status with Economic and Social Council (ECOSOC) including IAUNS.
At the end of his remarks, Dr. Ziaei-Bigdeli expressed hope that in the near future the cooperation between Iran and the UN as a whole, expands and deepens and out of this cooperation the national interest of Iran and Iranians be safeguarded at international levels.
The seminar concluded with a question and answer session.
Source: