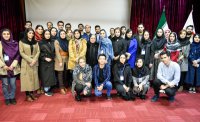 Seminar on 70th anniversary of the Geneva Conventions and Disarmament Week
Iranian Association of UN Studies (IAUNS) in cooperation with United Nations Information Centre (UNIC) and the Secretariat of the National Committee of Humanitarian Rights, Iranian Red Crescent Society held a seminar on the occasion of the 70th anniversary of the landmark Geneva Conventions and Disarmament Week for some 100 students and researchers at the hall of the Red Crescent Society on 14 November 2019.
The seminar was inaugurated by the opening remarks of IAUNS Secretary-General Dr Pouria Askari that was followed by the video message of UNIC Director Dr Maria Dotsenko. UNIC Director in her message highlighted that "In 1995, the General Assembly invited governments, as well as NGOs, to continue taking an active part in Disarmament Week in order to promote a better understanding among the public of disarmament issues. This is what we are doing today, and we are so thankful for IAUNS initiative.
During the one-day seminar, many eminent professors of different universities delivered speeches and answered to the questions of the participants.
At the end of the session, the President of IAUNS Dr Nasrin Mosaffa in her closing remarks reiterated the importance of the Geneva Conventions and thanked the keynote speakers of the seminar for their contributions to the one-day event. She also provided certificates to the participants.
Source: