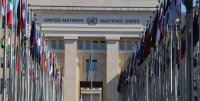 Iranian Association for United Nations Studies (IAUNS) was granted the special consultative status with the UN Economic and Social Council (ECOSOC).
Having recognized IAUNS as an authentic and qualified NGO, the Committee on Non-Governmental Organizations of ECOSOC on its 5th& 6th meetings held on January 31 of 2018, recommended the IAUNS to the ECOSOC for the special consultative status. Subsequently, this request was accepted.
Established in 2000 under the authorization of Iran's Ministry of Science, the IAUNS as a non-governmental organization and a scientific association has fulfilled its mandate through scientific research, training courses and workshops, conferences, publishing the proceedings of its conferences, and so on. The IAUNS has a strong connection with the United Nations System in Iran mainly United Nations Information Center (UNIC), United Nations Development Program (UNDP), and United Nations Office on Drugs and Crime (UNODC), to name a few.
Lately, the IAUNS has been permitted by the Iranian Ministry of Science, Research, and Technology to publish its own English journal under the title of "Iranian Review for UN Studies" (IRUNS) as an academic double-blind peer-reviewed journal by the Scientific-Research degree. The IRUNS is mainly devoted to the publication of original research, which brings fresh light to bear on the concepts, processes, and consequences of UN Work in general including the work of the main organs and the specialized agencies. It is multi-disciplinary in the sense that it encourages contributions from all relevant fields and specialized branches of UN Studies.
It is such a privilege and honor which professors James Crawford, Abdul G. Koroma, Said Mahmoudi and Alain Pellet as editors of the book titled "The International Legal Order: Current Needs and Possible Responses" (Essays in Honor of Djamchid Momtaz) addressed the IAUNS as "the largest NGO in the field" in Iran and "a prime example" of several associations and research centers specifically devoted to international law studies. (preface: XII)